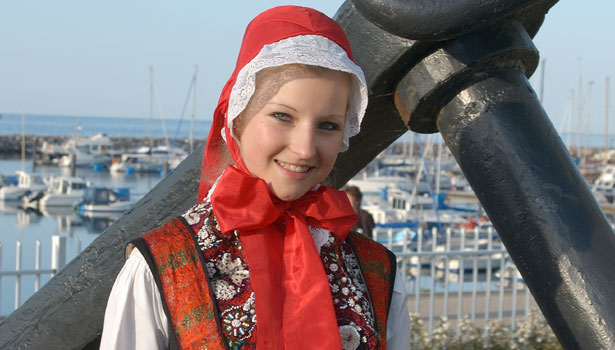 Garb of Mecklenburg from the 19th century
Press release 4 June 2007
On the boardwalk before the Baltic border tower and at the Strandresidenz cane anchor, Paula presents a garb of Mecklenburg from the 19th century
The family of the Strandresidenz-Kuehlungsborn presents their sensitive garb for the second time in 50 years
On the boardwalk before the Baltic border tower and the Strandresidenz cane anchor, Paula (17) wears a traditional costume like they have been worn around the monastery town of Rehna in the 19th century. It is possible that the garb originates from the area of Parish Luebsee (rural district of Northwest Mecklenburg). The family of the Strandresidenz-Kuehlungsborn has owned this historical piece for 50 years already and presents it at the time of the G8 summit only for the second time in public. Before, the garb had only been worn once in 1979 at the Homeland Days of Mecklenburg in Ratzeburg. Aside from that event, all parts of the garb had been protected against moths and stored in a dark place to protect it from sunlight.
Major parts of the garb are original. Emphasis lies on the chest cloth's sumptuous embroidery. It was not done by professional embroiders but designed by the women wearing it. The materials of the reworked garb parts such as the Pie (skirt and corsage in one piece) or the coif match the originals. They, too, are 70 to 80 years old and just as sensitive as the old parts that muster up to 150 years. All parts of the traditional costume are made of wool, linen, silk and cotton (stockings), thus natural fibres. These have become highly sensitive and may only be exposed to sunlight in exceptional cases.
Heidemarie Frimodig (66) of the Folklore Museum in Schoenberg/Mecklenburg and Rita Voelzer of the "Plattduetschen Verein to Rhena" (Low German Society to Rhena) have appraised all parts of the garb and advised Paula regarding how to put on the costume. The correct wearing and handling of such a fragile uniform is important. Because the original coif is in a desolate state and can not be worn anymore, Rita Voelzer has kindly provided her maiden coif (Stierthuell') made of red silk. The coifs of women are black.
Historians report congruently that old people often depicted the splendid image of churches on Sundays and holidays. A previous eye witness narrated that as a young boy in 1877, he once counted from the church gallery of Rehna 112 woman and daughters wearing such garbs. The so-called "Stiertmuetzen" of Rehna with long bands tumbling down the back were often seen, up till the First World War. The last persistent garb-wearing woman died in the 1930s.
The really old garbs today are personal property or treasured in museums. In homeland societies many more or less carefully done "Buerntueg" can be found. The meticulousness expended by the "Plattduetschen Verein to Rhena" to create the Rhena garb can barely be outperformed. They still embroider and sew by hand.
The garb that Paula wears will soon undergo cleaning and care and be kept safe again to remain for the next generations.
Baltic border tower:
www.ostsee-grenzturm.com
Strandresidenz-Kuehlungsborn:
www.strandresidenz.info
Folklore Museum Schoenberg:
www.ratzeburger-land.de