On land, by water, by air – arriving at the Strandresidenz-Kühlungsborn is possible any day of the week
By car/motorcycle
We love technology. However, as your host we advice you go without a navigational system and follow the ideally adviced way of your host – it is much faster and shorter.
From Lübeck
A20to BAB-Kreuz Wismar (Abfahrt 9) and then in 34 minutes on the B 105 route Rostock to Neuboukow and the 300m past the market place to the left on the district road over Bastorf to Kühlungsborn. After only 1.5 km past the town entrance Bastorf, turn right on the bypass (Grüner Weg) and follow 'Bootshafen'. After 2.5 km turn lift on the traffic-light intersection on the Schloßstraße and follow the signs to 'Bootshafen'. After 500 m turn right in the Cubanzestraße, that starts twisting after 1.5 km . On the second exit of the roundabout, you have reached your destination.
Your hostess advices the more beautiful route – with a navigational system – over the BAB-exit Kröpelin (Exit 12): After 1.7 km you will pass Satow Mosterei (Grocery shopping) and then after 15.3 km, you will reach Kröpelin. Before the town's entrance Kröpelin, it is only 7 km to the town's entrance Kühlungsborn. After a further 1.8 km, you will cross the Molli-train tracks. Turn right after 200 m (Follow the sign 'Bootshafen') to the Cubanzestraße. After 1.5 km, you will reach your destination after the second roundabout.
From BAB-cross Rostock
Drive on the A20 route Lübeck and take exit 13 (Bad Doberan). Drive through Bad Doberan and past Heiligendam. 500 m past the town's entrance sign you will turn right into the Cubanzestraße and after further 500m you will have reached your destination on the second exit of the roundabout.
Beware or radar traps and animals crossing!
Our police is known for its many and effective speed controls! Recent warning messages can be listened to on "NDR1-Radio MV".
You will, for sure, arrive more relaxed, if you plan enough driving time; from the motorway intersection Bremen (265 km ) and from the Berlin radio tower (251 km) it takes around 150 minutes to get here. From Leverkusen (623 km) it takes around 315 minutes.
Another request: We live in an area rich in wild animals – you should take the 'animals crossing'-signs seriously!
In order to get an impression you can watch one of our movies of an animal-vehicle crash that happened in the night of August 28th 2015.Wildunfall, MP4, 1,15 Min, 105 MB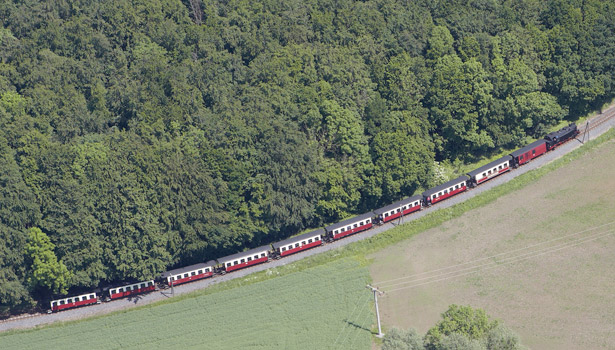 By the railway
Drive over Rostock (ICE) or Wismar to Bad Doberan (DB). You will find connections to the 'Molli', that brings you from the roads of Bad Doberan right to Kühlungsborn-East, by the hour in summer, and every two hours in winter.
The 'Molli' is in the regional local traffic-schedule integrated find Molli-schedule on (www.molli-bahn.de). During the day, regional trains from Rostock and Wismar in Bad Doberan have direct connections and the other way around. At request, we would also organize a car-transport from Rostock, or Bad Doberan right to the Strandresidenz.
By bus
Kühlungsborn is integrated in the German far-distance-bus network. From Augsburg, Bayreuth, Berlin, Dresden, Heilbronn, Ingolstadt, Munich, Nürnberg, Leipzig, Schwerin and other cities, there are many connections. Posen, Prague and Warsaw are also possible starting point. See www.busliniensuche.de,  www.berlinlinienbus.de, www.postbus.de and www.meinfernbus.de.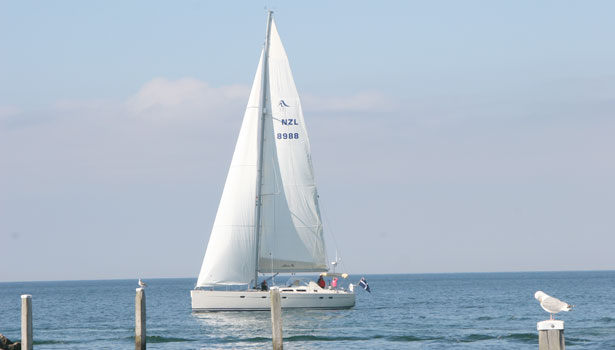 By boat
The port of Kühlungsborn is right by out villa. We would love to organize a beth for your stay.
Meeting point Strandresidenz: Friends from New Zealand visited us with the yacht 'Savarna' in Kühlungsborn. This is when they entered the port.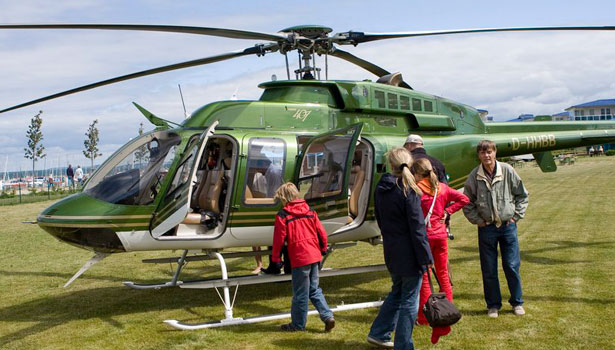 By helicopter
There are private landing spots nearby. We would love to help you out if you need help in getting landing rights.
By ferry
From Gedser/Denmark, Trelleborg/Sweden, Gdynia/Polen, Hankö/Finnland and Helsinki/Finnland you can reach Kühlungsborn over the Rostock port. Detail-Information can be found on www.rostock.de.
By plane
Bigger machines land in Rostock-Laage (RLG), just like the 'Air Force One' of the US-president. Pilots of smaller machines should proove the airfieldAirport Rerik-Zweedorf (EDCR) – 640 m grass.
Under: www.rostock-airport.de you can find the schedule of planes arriving at Rostock-Laage (RLG), e.g. from Cologne/Bonn, Munich, Stuttgart, Linz, Basel/Schweiz, Antalya, Gran Canaria, Hurghada, Mallorca, Rhodos. Please check charterflight-offers from Madrid, Bilbao, Barcelona, Marseille, Mailand, Rom, Catania, Venedig.
These airports have many feed flights going into Warnemünde. There are discussions about adding more airports.
From the RLG you can drive to Kühlungsborn-East by airport bus, after previously reserving or we could pick you up with our whire 7-BMW.

By bike
The premise of the Strandresidenz abuts right by the Baltic Sea-coastline bike-way 'Hanse'. It is part of the part under construction that is supposed to be added to the second longest, European bike-way "EuroVelo Route 10" that will be around 7.980 km when finished.
By horse/horse and cart
We would love to set up an interesting route with possibilities to stop for the last 50 km and communicate with Stable Böldt, to get a guest horse box. Reiterhof Böldt
As a hiker
The garden gate of the Strandpromenade is situated right next to the European far-distance hiking trail E9.

 Portugal – Spain – France – Belgium – Netherlands – Germany – Poland – Braniewo by the Russian border by Kalingrad/Königsberg (International coast trail).